ABOUT

As a bimonthly interdisciplinary life science journal, the "Mitteilungen Klosterneuburg" publishes scientific papers on researches in all fields of the human and natural sciences. The journal also covers special issues on viticulture, Plant Sciences and fruit processing four times a year. The mission of the Journal is to promote excellence in leadership practice by providing a venue for academics, students, and practitioners to publish current and significant empirical and conceptual research in all fields of sciences. The journal covers a very wide range of areas and we welcome submission from researchers at all levels and from all over the world. Besides research papers, the journal welcomes book reviews, conference reports, case studies, research notes and commentaries.
Notification:
The website http://mitt-klosterneuburg.com is related to the self financed academic institute of the interdisciplinary life sciences and has no connection with the Austrian Federal Office for Wine and Fruits or its related organizations.

Submit Your Article

Here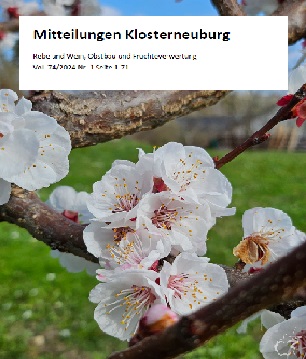 Mitteilungen Klosterneuburg aims at disseminating and promoting research, good practice and innovation in all aspects of the life sciences to its prime audience including educators, researchers, post-graduate students and policy makers. The journal also encourages international scientific cooperation, willing to enhance multi-disciplinary research across all life science sectors. The scope of the journal is international and all papers submitted are subject to strict blind peer review by its Editorial Board and by other anonymous international reviewers. The journal features conceptual and empirical papers, and editorial policy is to invite the submission of manuscripts from all academics and researchers. The Editorial Board will be looking particularly for articles about new trends and developments within different sectors of life sciences, and the application of new ideas and developments that are likely to affect the field in the future.
Frequency: Bimonthly
ISSN: 0007-5922
Publisher: HOEHERE BUNDESLEHRANSTALT UND BUNDESAMT FUER WEIN- UND OBSTBAU
Impact Factor: 0.176
Five-Year-IF: 0.061
Eigen factor TM Score: 0.00007
Coverage:Science Citation Index Expanded, BIOSIS Previews
Hyperlink to Thomson Reuters` page